Spent the weekend doing some backpacking in Kisatchie National Forest outside of Natchitoches, LA. Had a really good time, even though my usual backpacking partner couldn't go. So it was me and my dog Luke. I ended up covering about 8.5 miles the first day due to having to abort on my original idea for a camping spot. But it was ok. I got these new hiking poles… and my speed increased dramatically. I always thought the idea of using them was kinda crazy, but they really work well.
Here are some pictures:
This is a picture I took early on the first day. Luke was really excited and ready to go. The trail itself was unusual in that the trail in areas was very sandy and lots of rock outcrops existed. I don't know of many places in Louisiana that would look like that. There were also tons of Longleaf Pine trees, which were a nice treat. They have extremely long needles and huge pine cones.
I thought it this tree looked exceptionally unusual. I think it speaks to the determination of life; even if one is deformed or may have limitations, striving for that life-giving sunlight continues on.
Luke walked right past (perhaps right on top of) this Water Moccasin. This snake was truly pissed. I wish I had recorded video to show just how loud it was hissing. It was sucking in air and hissing it out so forcefully, you could see it's head change shape with it. A truly amazing encounter. It was frightening as well, because Luke had passed it and I had no easy way around. Luke was going to walk right back to me (over the snake) and probably get bitten. So I had to holler at him to go away and stop many times as I hacked my way through some thorns to get around the snake (it was so angry I did NOT want to attempt to move it off trail with a stick).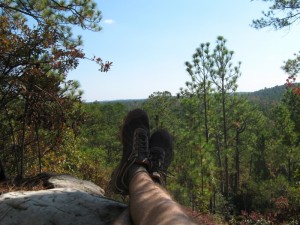 After covering a bunch of miles, it was nice to reach camp. This was the view from camp that evening. I was looking out to the East, so I knew I would have a spectacular view in the morning.
This little guy was really curious. As I was resting at camp, he came down the tree and watched me for several minutes. He even came off the tree to come closer to me, but I moved and he quickly went back up again. But he continued to watch me until I went to do other things.
Here's what my morning looked like. Absolutely gorgeous. You don't get to see many sunrises like this in a lifetime. After taking a few shots and absorbing the morning for a bit, it was time to move on to find water and get back home.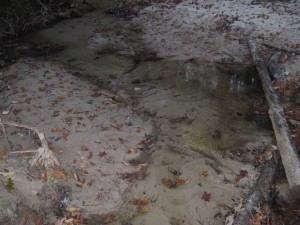 This is the water source. It was a pretty clear-running stream, despite the look of it. Luke had a great time splashing around, running up and down the sand "beach," and throwing splashes of water and sand all over me.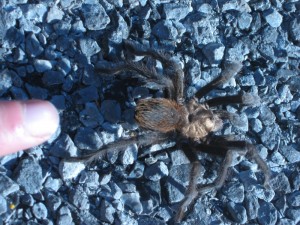 Pretty soon I was off the trail, and it was time to head home. I did meet a road traveler about a minute after leaving the trailhead parking lot. He was moving pretty fast, like he had somewhere to be. And, so did I, so I left him and went on home.